SUMMER is upon us!  We hope you are enjoying your walks, your gardens, your life on Gabriola….
The Community Hall board has been busy preparing applications for funding the Hall's required maintenance. We have chosen a roofing company in Nanaimo to re-roof the flat roof with new plywood underneath to take us into the next few decades.  We are hoping for funding from the RDN Community Works program to help us with this large ticket item.  Donations from the community have gone a long way to meet the matching funds required.  Thank you for this!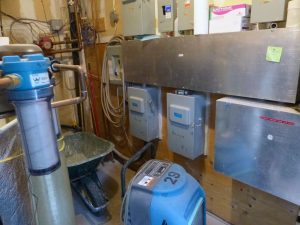 Tsiporah, our booking agent, has been booking the Hall for events until June 11 when the restoration will begin in full swing.  Aside from a renovation of the preschool and upstairs kitchen, we will be revamping the mechanical room to bring it up to new code standards which have changed over the past 34 years as one would expect.   The Hall will be a busy place for the next few months. Stop by and say hello to the hardworking crew.
Our website has been reworked under the direction of one of our board members, Scott Colbourne.  Gabriola Graphics did a good job for us and we think the website is easy to use to keeps the community up to date on all things related to the Gabriola Hall.  CLICK HERE and check it out.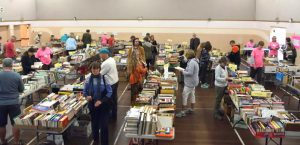 On Saturday June 2nd  and Sunday June 3rd, (10 am to 4 pm both days) the Friends of Gabriola Library will again hold their highly successful book sale in the Hall.  They invite you to enjoy the space which allows people to move easily around the tables laden with books as well as stop for drinks and snacks at the cafe for chatting and skimming through their collections.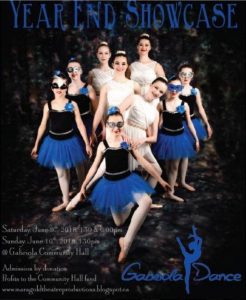 The following weekend, the Gabriola Dance and Maragold Theatre Productions will be presenting 50 Gabriola Students in their year-end showcase:
Saturday June 9th at 1:30pm and 6pm
Sunday June 10th at 1:30pm
Entry is by donation and all profits will be donated to the Hall!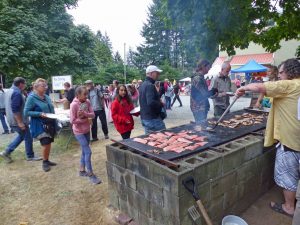 All this warm weather reminds us that the Gabriola Community Hall Salmon Barbecue can't be far away. Please mark your calendars for Saturday August 11 for the 63rd fun-filled fundraiser. It takes a lot of volunteers to make this annual event such a success year after year. We are pleased that Julie Stewart will continue to organize this extravaganza for the community. Why not volunteer to help? There are many areas for volunteers like ticket selling, raffle, potato cooking, dishes and recyling. There are all sorts of jobs you can do for an hour or two – just provide your information by CLICKING HERE and Julie will slot you in wherever you feel comfortable. Great way to meet new people and help out the Hall. There are also two slots left for performers so if you would like to be on stage and entertain the crowd, please contact Tom McLaughlin at tommclaughlin@shaw.ca. Come out and support your Hall. See you at the Salmon Barbeque folks!
The Board is also looking for a Treasurer. QuickBooks is what we have been using and it requires about 8 to 10 hours a month and a commitment to attend one meeting a month on the second Tuesday of the month. Please get in touch with Joyce at 247-8554 or Richard at 247-8932. Much appreciated!!
We always enjoy hearing from you.
Sincerely,



Joyce Babula,
President, GICHA