Gabriola does indeed provide!
This month we're happy to report that our project for a stage and gathering space is proceeding without the necessity of placing a lien on the Hall itself. At the special General Meeting convened on October 17th to approve the borrowing required to undertake the project, the membership unanimously passed resolutions to enter into agreements for a $25,000 unsecured line of credit with the Coastal Community Credit Union and a $30,000 unsecured loan with the Gabriola Community Investment Co-op. Although the project is 100% funded by the Federal / Provincial governments, recipients must pay costs upfront and then be reimbursed after submitting claims as the various phases are completed. Originally, we had thought that our only option for an additional financial buffer to the line of credit with the CCCU would be via a mortgage on the Hall, a course of action we were naturally very reluctant to take but it seemed there were no alternatives. Little did we know! Enter the Gabriola Community Investment Co-op with an offer we could not refuse.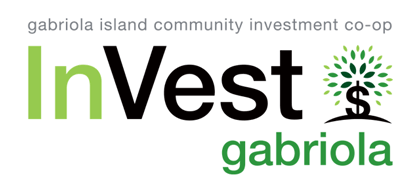 Click the above graphic to visit the Gabriola Community Investment Co-op website (https://investingabriola.ca/)
A huge thank you to GCIC for its commitment to building community with homegrown solutions.
The preparatory work for the project is proceeding according to schedule with the arboriculture assessment completed, the removal of dead and / or dangerous trees, the property survey underway, formal consultation with Snuneymuxw First Nation initiated and gathering input from performers regarding the characteristics of the stage. And on this note, if you know of an outdoor stage that could provide inspiration for ours, please let us know. If it's not too far away, we can always plan a field trip!
With the General Meeting now behind us – and thanks to all those who attended, ensuring that we reached a quorum, just! – we're now planning for our Annual General Meeting on Sunday, November 28th at 2 pm at the Hall.
And we're looking for new board members. What's involved, you might be asking? The board meets every second month, on a day and at a time mutually agreed upon. For the last few years we have met on the second Thursday of alternate months at 7pm.  Since the beginning of COVID, we have had zoom meetings when the  provincial health orders deemed in-person gatherings risky, otherwise we meet at the Hall. At meetings we review the financial statements, discuss maintenance issues, ways of boosting rental income, fundraising and grants – and whatever else is on the radar. Though the Hall employs a rental agent, a building manager and janitor, we would still be considered a working board. The Community Hall has been such an important part of island life for over a century that making even a small contribution towards its continuing viability is fulfilling for board members. So with this big project ahead, these are exciting times for the Hall – please consider joining us!
Keep safe, folks!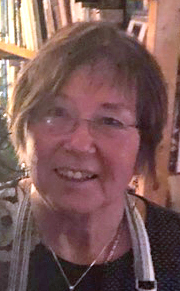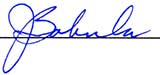 Joyce Babula, President
On behalf of the
Board of the Gabriola Island Community Hall Association