Thus, without grief, the golden days go by,
So soft we scarcely notice how they wend.
And like a smile half-happy, or a sigh,
The summer passes to her quiet end.
Archibald Lampman, Canadian poet, 1893
Summer is gone and with it the very successful Salmon Barbecue, the flat roof, new windows, and a host of lesser things. So many people to thank! Michael Brown at the Village Liquor Store for their August 1% gift of $1,040—on the very day that the roof was finished! Julie Stewart and her legions of helpers at the Barbecue. Mike Peltzer for making sure that the contractors had what they needed as they worked. And last but not least, our faithful monthly donors. It's all this that puts the "Community" into our, no your, Community Hall.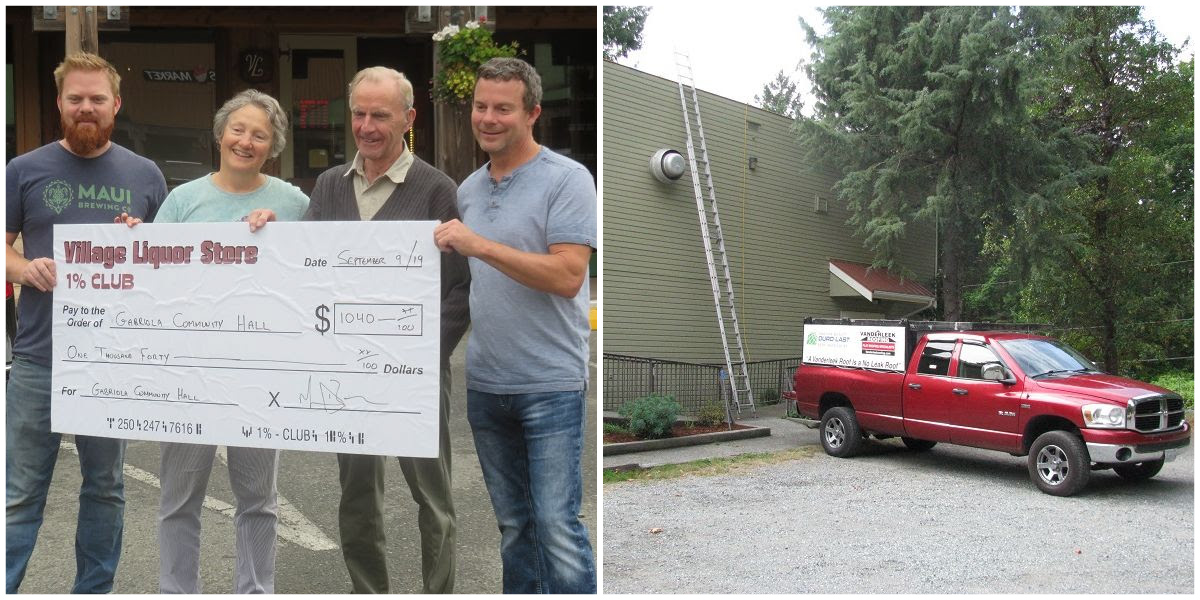 On September 14th, thanks to the organizational work of Elizabeth Iachelli and her helpers—Laurie, Joyce and others—we welcomed several dozen of the barbecue volunteers and donors to the Hall for a "Thank You" Tea Party.
Now, looking forward, there are a few significant issues facing us.
The first has to do with the Hall's governance. Over the years a number of energetic people have stepped up to serve a term or two on the Community Hall Board of Directors—my thanks to them all. However, at present, we have a number of vacancies and are looking for "refills". Not just to sit around the Board table, but to contribute their skills and ideas to make the Hall an ever-better place.
When I undertook this year as your President, I did so in the hope that we could rejuvenate the organization by doing some detailed planning (see our Business Plan on the Hall's website), and by recruiting a new generation of Board members. While the current Board has worked hard, it would be wonderful to bring along new faces with new ideas and new talents that could see us into the next few years of our future. Joyce Babula is chairing the nominating committee. If you are interested, please feel free to get in touch with either her or any member of our hard-working executive—Elizabeth Iachelli, Hank Reid, Laurie McDonald and myself.
While on the topic of the Board, we, like many other islanders, are sad to see Hugh and Nancy Brown depart the Island after so many years. Hugh spent many of those years in various positions with the Community Hall, including President, Secretary, Board member, and Trustee. There will be a farewell bash for them in the Hall at 2:00 pm on Saturday, September 28th. Here is wishing them both well as they move on.
We are also finalizing our proposal to the Regional District to become the designated Emergency Reception Centre for the south end of the Island. My personal thanks to Vanessa Craig, our Regional Director, and Catherine Morrison, the RDN's Manager for Emergency Services. They have both made helpful suggestions and been very generous with their time and expertise. I hope to have the final proposal approved by our Board in October and then on to the RDN.
The 2019 Annual General Meeting will take place at the Hall on the afternoon of Sunday, November 24th at which we hope we can usher in reinforcements to help meet the challenges that undoubtedly lie ahead. Please make a note on your calendar and join us there.
My autumnal best wishes to all of you.


Peter Jones
President
Community Hall Association