I am sorry that this August newsletter is later than usual. We have had family filling the house for the whole month to celebrate Margaret's 50th wedding anniversary, (which coincidentally happens also to be mine). I've scarcely had time to do anything other than cook, entertain and reminisce. But despite the din, we love them all mightily.
We all had a wonderful evening at the Annual Salmon BBQ on August 10th. The food was tasty, as usual. The music was funky. The dancing was spectacular—and the rain stayed away. We are grateful to all and sundry for the $16,000 profit that we will put to good use upgrading your Hall. Attached are some snapshots. However, if you would like to see lots of exquisite photos of the event, go to Bill Pope's 2019 Salmon BBQ photo album. Thank you, Bill, for being with us again.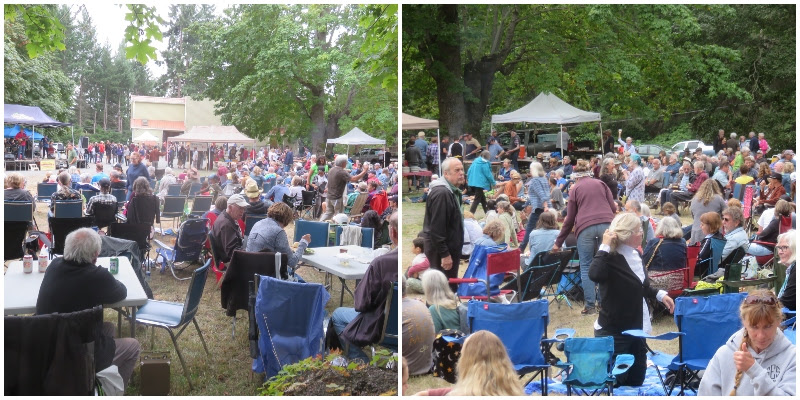 All of this did not happen by accident; there are scores of volunteers who should be thanked. The BBQ would not happen without their efforts. Our traditional thank-you event will take place on Saturday, September 14th from 2:00 pm to 4:00 pm at the Hall. If you were a volunteer, RSVP at info@gabriolacommunityhall.com to join us. See the invitation below, or click here to see the PDF invite.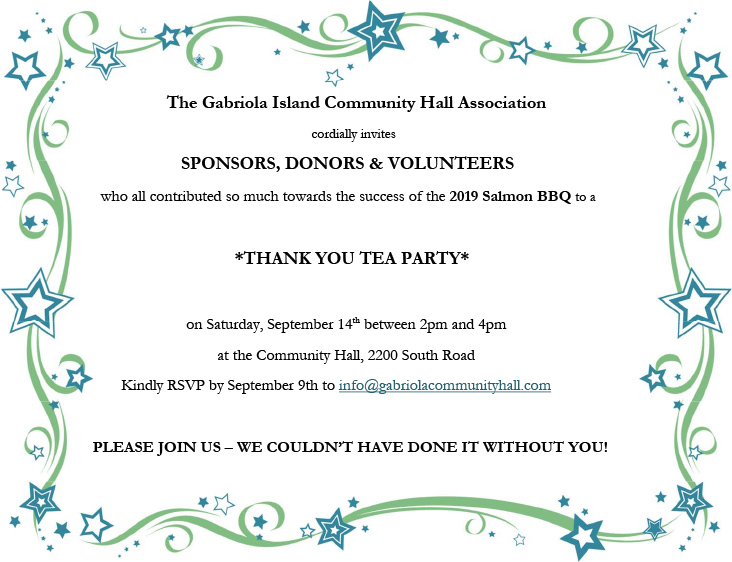 Now I know it is always dangerous to choose one person from among so many, but I don't think anyone will mind if I single out Julie Stewart for being the brains and moving force behind the BBQ. She was on top of everything—and even began making notes of what to watch out for next year. A thousand very special thanks, Julie.
As well as the enjoyment of the evening, there is the fact that the BBQ is the biggest fundraiser in the Community Hall's year. Our treasurer, Hank Reid, tells me that this year we raised approximately $16,000 after expenses. This gives us the financial shot in the arm that helps with the Hall's upkeep while keeping rental fees reasonable. Thank you all for this too. We all look forward to having a leak-proof roof before the rainy season!
There is one other, more mundane, thing that I would like to mention. At a recent Board meeting, we agreed to set up a new rental category. There has been some interest in using the Hall for rehearsals, etc. early in the morning (before 9:00 am). Thus, we have set up a new low-cost category—$5.00 per hour for early morning rentals. This can be booked in the usual way: call or e-mail our rental agent, Tsiporah Grignon, at tsiporah@island.net, or 250-247-8350.
Well, back to family for me. I wish you all a very enjoyable time in what remains of the summer, and that the return to normal after Labour Day will find you refreshed and reinvigorated.
Best wishes.


Peter Jones
President
Community Hall Association